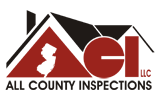 66 Brandywine Rd
Fords, NJ 08863

732.991.6779
anthony@aci-nj.com
NJLic #: 24GI00099200 Radon: MET12908
Specializing in:
Residential/Commercial
Radon
Pool/Sprinker
Wood Destroying Insects
Quick Shortcuts
Buyer's Home

After saving and dreaming for months and years, you've finally found the home of your dreams. It has just the right décor, space, bedrooms and amenities you and your family need right now. You've checked out the schools. You've checked out the neighborhood. You've even timed the drive to and from work. BUT, have you taken seriously the importance of having a BUYER'S HOME INSPECTION done on your home-One where YOUR Interests are in Mind? Probably not.

Perhaps your neighbor has mentioned a home inspector or your REALTOR has referred their favorite home inspector? Can you be assured that this home inspector will take the time not only to perform a thorough and detailed inspection, but walk through the entire home explaining defects mentioned in the report as well as maintenance items? Will this inspector explain how systems work in a fun and educational manner so you know and feel comfortable with your home? After all, this is YOUR home and you want to know as much as you can about it! Finally, when you are nearing the end of the inspection, will the inspector be scrambling to get you a report onsite or will he review his notes and prepare one of the most easily understood and professional reports in the industry within 24 hours? After all, it is your home, do you want a rushed inspection and report with possible errors or one that has YOUR best interests in mind?

All County Inspections always has your Interests in Mind! After all, the largest part of our business is from happy past clients who have gone through the home buying process just like you. So buy that home and schedule your inspection today knowing you have a trusted inspection company with Your Interests in Mind!
New Home/Builder

Owning a home is the American Ideal, but building a home is the Dream of a Lifetime. Unfortunately, for some new homeowners it can become a nightmare.

Most sub contractors are exceptional and well trained. However, with the record pace of building, it is possible to have workers who are tired, overworked or not as qualified as they should be. As a result, some new homeowners have found that these subcontractors (to name a few items) have forgotten to insulate portions of attics, have not installed electrical or plumbing components correctly, or have failed to finish their work. If they do not document these items or catch them before the end of their warranty, the homeowner, not the builder, is responsible for repairing these items either down the road when they sell their home and the buyers have an inspection performed.

Oftentimes, we hear from sellers or homeowners 3, 5 or even 10 years after a home has been built that they cannot believe that the builder forgot to install enough insulation, or adequate attic ventilation, or install electrical/plumbing correctly. As a result, these homeowners are faced with hundreds if not thousands of dollars in costs that could have been avoided with a thorough, detailed and comprehensive inspection.

By working with All County Inspections, you can provide your builder with a thorough, detailed written summary of defects that need to be corrected while your home is still under warranty. It's a good idea to have an independent authority conduct your home inspection. That way you have the peace of mind knowing you have a complete and accurate account of your home's condition.

There are many local inspection companies who perform these types of inspections, but only a few are as thorough, experienced, or professional as a All County Inspections. Understanding that a new home can be overwhelming and sometimes fearful, our inspectors take extra time to ask you what issues you are concerned about. We encourage you to be present during the inspection and in some cases follow us so you can see what we see. Whether you follow us or not, we take time at the end of the inspection to walk-through the home identifying issues. Additionally, inspectors from All County Inspections take extra time to point out maintenance issues. Our inspections not only cover the basic items in a normal inspection, we spend extra time looking at systems and structural components to ensure potential issues caused by substandard workmanship are identified and corrected before they become an issue. All County Inspections inspectors are not only highly qualified in construction trades, building and real estate, we have performed hundreds of inspections and have an acute understanding of the process as well as typical mistakes that are made over and over by some subcontractors.
Construction/Phase

When building most homeowners want Peace of Mind and Quality Assurance. The last thing any homeowner wants to hear after they have lived in a home for 10 months is that there is a leaking pipe in a wall that could have been identified during the construction process.

All County Inspections understands how important it is for homeowners to have Peace of Mind today, not tomorrow. As a result, we have put together a reasonable and affordable inspection package.

Pre-Drywall

This inspection is performed days/week before drywall is installed.


Slab and Foundation Inspection
Inspect for defective, warped, missing and misplaced framing members
Inspect anchor bolts, fire blocking and truss ties
Visually inspect the electrical wires and plumbing lines install through the framingsystem
Visually check the HVAC rough-ins and duct conditions
Visually check Air Handler condensation drain and overflow drain lines
Check exterior wall preparation (check the metal lathe wire for tightnetss and proper installation)
Visually check exterior electrical and lighting fixtures
Final Home Inspection
Full home inspection exceeding ASHI and State Standards
Inspect the final installation of attic insulation
Inspect the final installation of all roofing materials
Inspect the operation of electrical, plumbing and HVAC systems
Inspect the operation of appliances, plumbing fixtures, doors and windows
Inspect the finish work of the surfaces inside and out
Pre-Listing

Many homeowners have discovered the benefits of building homes, living in them for a few years and then moving on to a larger home. Hence on any given day, one can see homes that are 2-5 years old in a neighborhood with FOR SALE signs in the front yard.

Think of all that goes into selling a home--the cleaning, the garage sale, the worry, the uncertainty, finding the mortgage professional to get a new loan, and then finding a real estate professional to sell the house--And that is before you even start looking for a new home and neighborhood! The last thing on your mind is a Pre-Listing Home Inspection. Yet, it could be the most important thing you do to prepare for your home sale.

Why a Pre-Listing Home Inspection??? Sure your home was in great shape when you built it. Or was it? Were you one of those who laughed at your neighbors and decided a New Home/Builder's Warranty Inspection was not for you? Are you sure you caught everything the home builder might have forgotten or are there things that you are uncertain are in as good of shape as you thought. Why take the risk of selling your home and then having a BUYER HOME INSPECTOR find countless issues that will cost you thousands off the price and maybe even cost you the sale. For a small fraction of the cost of your home, have the Peace of Mind that your home is in good condition.

More Reasons Why. . .

There's no waiting for a potential buyer to order a home inspection.
Hassle Free Home Sale
You'll impress buyers with proof of your home's condition inside and out.
Correct problems and eliminate last-minute repair hassles that could delay closing.
Decrease the chances of unknown problems that cause sales to fall through.
Get a better price for your home.
Maintenance

Why a Maintenance Home Inspection? Can you really afford to have a home that is unsafe for you and your family? For a fraction of the cost of what you purchased your home, you can have your home checked out and repaired before damaged or unsafe conditions worsen. Why risk it???

Our experienced, fully trained and licensed inspectors not only know what issues to look for but can advise you on important maintenance and care items that will help you maintain your home for years to come. Moreover, this will give you a complete "honey to-do" list without all the guessing and uncertainty that goes into most home improvement projects.

Reasons to have a Maintenance Home Inspection:

Find those small problems before they become big problems.
Have a detailed and comprehensive report detailing the current condition of your home.
Save money! By doing minor repairs now it will save you from the big repair in the future.
No surprises when you sell. When you do sell your home in the future there won't be any unexpected surprises.
You may be unable or unwilling to examine areas of your home on your own.
Commercial

Whether you own, lease, or are purchasing a building, don't wait to find out the condition of the building and its systems. It is a pretty good hunch that this property was a major investment and the last thing you want are more costs. After all, no one likes surprises. That's why an inspection is intended to tell you the condition of the building and property--and, reduce your risk.

A inspection is an objective review of your building and property. Knowing the condition of a building will allow you to budget more accurately and provide for expenditures in the future -- whether it's a new roof, HVAC or simply maintenance related items. Not knowing this information, or worse yet guessing, can have major consequences.

What condition are the building's systems and components in?
What costly defects are there which require attention now?
What expenditures will be required to repair, maintain or replace items in the near future?

If you can't answer these questions about the property you're planning to buy or lease, you probably should consider an inspection before buying the property.

Buying a building and property is a very anxious time what with doubts, deadlines and so on. Reducing or removing uncertainties can make your real estate transaction go smoother. The same holds true when you lease too by knowing the condition of the building and property from the outset. Estimating future repair costs and the replacement of building components and systems requires an inspection to determine their current condition. With this information estimated life spans can be ascertained along with the related costs to repair, maintain or replace items.

What Type of Commercial Properties are Typically Inspected?
We inspect commercial buildings of all shapes and sizes.
For example:

Shopping Centers & Strip Malls
Office Buildings, Apartments & Condominiums
Light Industrial Properties
Religious & Institutional Properties
Recreational Facilities & Sports Complexes
What Does All County Inspections Look For?
Our building inspections are tailored to meet our clients' needs and include items such as:
Foundation -- construction, walls, floors
Roof -- covering, flashing, chimneys, drainage
Attic -- ventilation, vapor barriers
Insulation -- type, amount
Interior Spaces -- Walls, Floors, Rooms, Offices, Kitchens, Washrooms
Exterior -- Site, Walls, Windows & Doors
Electrical & Plumbing Systems
Heating, Ventilation & Air Conditioning
Other services we can provide include:
Safety concerns for fire & other hazards
We do not inspect commercial equipment such as refrigeration units, coolers, commercial grade ovens, stoves or pizza ovens.
Why an All County Inspections Report?
We provide a comprehensive narrative-style written report. Our reports are…
Not A Checklist,
Easy To Read,
Not Overly Technical, and,
Tells You The Condition Of Your Property In Every Day Language
Pool

Pools can provide years of leisure, heath enrichment and pleasure. Yet, pools tend to be the most neglected aspect of a home/property. They can even become life threatening with safety issues if not properly maintained and repaired. Even if the pool is maintained by a pool service, you cannot be assured that your pool is safe and in good working condition without a pool inspection. For more information on pool maintenance and Information, please refer to our Pool Resource Page.

A typical All County Inspections pool inspection involves the examination of pool equipment (filter, pumps/motors, etc), the pool body, decking, coping, electrical, add-ons (such as heaters, diving boards, waterfalls, etc) as well as safety features such as pool fences, child safety gates, and doors.

So when and who should you get a pool inspection performed?

Safety inspections for any one concerned about the prevention of drowning.
Realtors can recommend our inspection services for their prospective clients as part of the due diligence process.
Homeowners building their own pool and /or spa can avoid many costly mistakes getting construction supervision inspections!
Homeowners can get their pool inspected to ensure it is safe and in good working order.
New homebuyers can save 100's if not 1000's of dollars when buying a home with an inspection report.
Home sellers can get an inspection report and estimate to repair or restore a pool.
Landlords can have inspections for maintaining properties and ensuring the pool is safe and in good working order.
Property management can get an inspection to ensure a pool is in good working order and find out what needs to be repaired/replaced.
Radon

Radon is a radioactive gas that has been found in homes and buildings all over America. The EPA believes radon can cause some kinds of cancer and lung illness. It comes from the natural breakdown of uranium in soil, rock and water and gets into the air you breathe. A human cannot taste, smell, touch or feel radon. Typically, radon moves through the ground to the air above and into your home through cracks and other holes in the foundation. In some cases, your home/building can retain/trap radon. It doesn't matter where you live. Any home/building can have radon in it--whether it is new or old, drafty or caulked tight as a drum. In fact, you and your family are most likely to get your greatest radiation exposure at home because this is where most of your time is spent (sleeping, eating, etc.). Nearly 1 out of every 10 homes in the U.S. is estimated to have elevated radon levels.

If the home has not yet been tested for radon....
It is probably a good idea to consider a radon test whether you are buying or selling a home. Chances are if your company relocates you, they will want a radon test performed on your home. Having a radon test is an inexpensive price to pay to ensure your home/building is safe for you and your family.

What should I do if they find elevated radon levels?
The EPA recommends that you take action to reduce your home's indoor levels if your radon test results is 4pCi/L or higher. If you are selling your home, it is suggested that you have these levels reduced prior to listing it. However, if elevated levels are found during the real estate transaction, the buyer and seller should discuss the timing and costs of the radon reduction, as with any aspect discovered during due diligence.

The cost to correct high radon levels depends on how you home was built and other factors. Most homes can be fixed for about the same costs as other common home repairs, like replacing rotten wood or replacing a water heater. The average cost for a Qualified Radon Mitigation Professional to lower radon levels in a home is about $1200, although this can range form $500 to about $2500.

Okay…I want my house or building tested for radon…what happens now?
The first step is to contact All County Inspections. Following EPA standards, please note that you will be required to keep your windows and doors closed (except for normal entry and exit) for a time period of at least 12 hours prior to the placement of the Continuous Radon Monitor (CRM). A CRM measures the radon levels continuously every hour on the hour during a test. The EPA suggests that a radon test be conducted anywhere from 48 hours to 7 days. Typically, All County Inspections tests radon levels for a period of 48-72 hours. During the test, all windows and doors must be kept closed except for normal entry and exit of doors. The CRM is placed approximately 3-4 feet above the floor near the center of the house. Also, it must be placed at the lowest living space. Typically in a basement or crawlspace. The CRM cannot be touched, moved or disturbed in any way or the test is void. Additional considerations are discussed with the testing specialist at the time of the CRM placement.